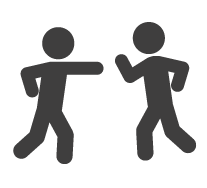 PRIVATE
1 on 1 personal training will focus on any number of your personal goals including an intense workout targeting fat loss, the mechanics of your overall technique, or questions about drill components. Have fun learning new skills while getting a great workout! Schedule a free consultation with one of our personal trainers today!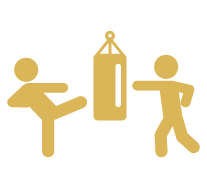 SMALL GROUP
Learn new skills and exercise with your friends in a small, controlled group. Push and motivate each other to finish the last hard rep or test out your new techniques as you practice drills together. Reach the fitness results you're looking for with the motivation and accountability only friends can provide.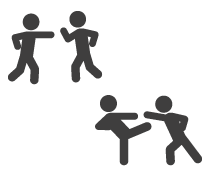 Work stress out where you and your peers bond through boxing with fun and stress relieving exercise. Achieve your fitness goals in a high energy, action packed workshop among like minded peers. The more you punch together the more you excel together.
MUAY THAI/KICKBOXING CONDITIONING
Punch, kick, elbow and knee combination work that will leave you in a puddle of sweat. MMA GROUND & POUND CONDITIONING
Ground based striking and drills to help you release daily stress by crushing away any tension you've built up!
SKILLS
Striking – Dutch style partner training that will create power, crisp combination work, and defensive structure in a live application format.
MMA – Stand-up and ground technique work that simulates MMA fight situations and exchanges.
FIGHT CONDITIONING
Build power and increase athletic performance while building a new, stronger YOU!
Erica H.
I have been going to the … gym for almost a year and have wanted to try Jiu-Jitsu for sometime. I could not be more ecstatic to have Lorren as a coach to guide me through this new experience. Her obvious passion and knowledge for the sport is addicting. She is very methodical with her teachings, as well as demanding you to work extremely hard while maintaining an encouraging environment. You really can't ask more from a coach.
Monica V.
Lorren truly helped me change my life! I lost 80 lbs and I couldn't be any more happy! She never gave up on me, not even when I didn't think I could! Lorren walked me through everything, my diet, and my weight lifting! I truly recommend her as a trainer!
David M.
Training … and working with Stanley Phan has been an incredible experience! My ability to strike accurately while using the proper technique has improved dramatically in a years time. I would recommend training with Stanley if you would like to improve your striking abilities, balance, defense, and overall confidence in protecting yourself; all while getting one hell of a workout!
Hours:
Mon, Wed : 6AM-7AM, 12PM-1PM, 5PM-8PM
Tue, Thur : 12PM-1PM, 5PM-9PM
Fri : 6AM-7AM, 12PM-1PM, 5PM-7PM
Sat : 11AM-12PM
Sun : Closed
5020 Roosevelt Way NE #4, Seattle, WA 98105